Support
Training Options
Live and On-demand Training Options
We offer live and recorded comprehensive training webinars that also deliver best-practice suggestions for each key area of the software. To view our training calendar and register for a class, click here!
Examples include member management, event management, communication tools, reporting, billing, and administrator tasks
Webinars are always free to attend; there's no limit to the number of times you and your staff can view them.
Slides that have reminders of tips and shortcuts are available for each session and are perfect for note taking. Of course during live webinars, the instructor is available and eager to answer all questions and provide pertinent feedback.
Interactive Workshops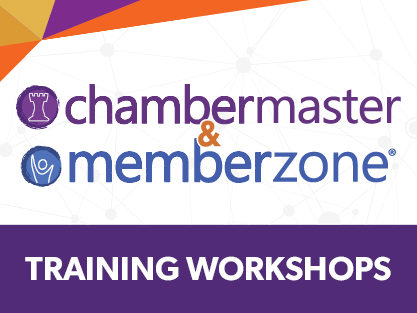 Participate in any of our daily workshops for a remote "hands-on" learning experience. Our training staff will show users how to accomplish tasks and recommend the users work along with them in their own database. Questions on the topics covered are encouraged! Each session is repeated and offered at various times during the week or month. Join as often as you wish.
Interactive Help at Your Fingertips

Videos and step-by-step instructions for specific tasks are available online 24/7 via the handy search box in the software. Simply click the icon for quick directions, or do a word search query, or browse through topics - like turning pages in a manual.
Classroom Training
We conduct inexpensive day training sessions in different regions of the country. This allows users to interact with each other and with our training staff over the course of a few days. You'll feel so confident at the end of an in-person ChamberMaster training, you may be ready to start training others yourself!